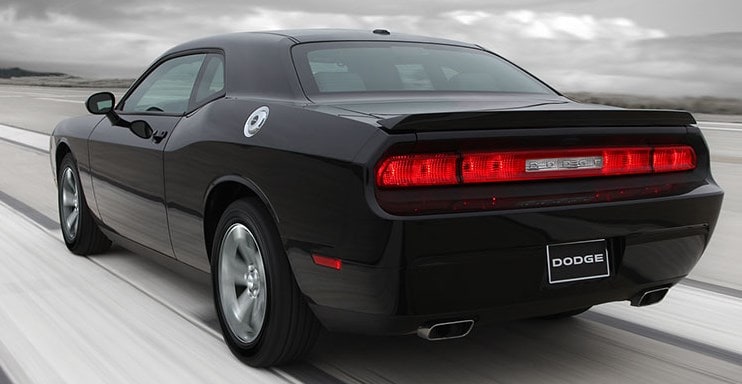 A New Version of the Legendary Model
The 2016 Dodge Challenger is definitely among the best known cars in the US. Based on the iconic muscle car, it combines incredible power, fierce looks, and amazing comfort to provide an extremely enjoyable driving experience. Trying to find this 2016 Dodge Challenger near Salt Lake City, Utah? It's great to see you at the Salt Lake Valley Dodge website then, as we can surely offer you a huge selection of both brand new and certified preowned vehicles, all coming in top condition. We frequently add new special offers and promotions to the mix, allowing us to get you some of the best price tags anywhere in Salt Lake City, UT or the surrounding region. If you need some time to decide whether it's the right choice for you, we'd suggest reading through our review of the 2016 Dodge Challenger below - this vehicle has even more to offer than you might expect!
Loads of Trim Levels
The 2016 Dodge Challenger can be customized to fit your needs the best, so you'll have to make plenty of choices if you decide to buy a new or pre-owned one. While the vehicle is always equipped with RWD, most other features depend on the trim you choose, and each of ten levels you can pick from brings something exceptional to the whole package. Starting with the standard SXT and SXT Plus trims, the vehicle is more and more upgraded throughout the R/T, R/T Plus, and R/T Classic ones until it reaches the ultimate SRT8, SRT8, and Shaker trim levels. Finally, you can choose the vehicle with two distinctive appearance packages: 100th Anniversary Edition and Rallye Redline.
A Minimum of 300 Hp
The standard engine of any new or used 2016 Dodge Challenger provides as many as 305 hp through the 3.6 liter displacement and the V6 cylinder configuration. If you choose one of the R/T trims, the engine will upgraded to a 5.7 liter V8 one with an output of 375 hp. Finally, if you choose any variation of the SRT8 model, you'll get an extremely powerful 6.4 liter V8 engine which packs 470 hp of raw power. Depending on the engine and your preferences, the transmission can vary between a 5-speed manual one and a 6-speed automatic one.
Amazing Efficiency
If you equip the car with the basic V6 engine, you'll easily be able to drive 27 miles on a highway or 18 miles in an urban area while using up one gallon of gasoline. Other versions are a little more demanding than that, but their fuel consumption rates are still very reasonable. For instance, the extreme 470 hp variation of the vehicle will need one gallon of fuel for a 23-mile highway trip or a 14-mile city one - considering the performance that the car provides, these numbers are more than fair.
Exceptional Looks
You just can't mix any new or used 2016 Dodge Challenger with any other car on the road - it comes with a unique appearance, with highlights including 20" chrome wheels, the signature cross-hair grille, and powerful LED headlamps. Most of the trim levels have some unique styling elements, but the whole vehicle can be painted in eleven distinctive colors, including Redline 3 Coat Pearl (red), Jazz Blue (dark blue), Granite Crystal Metallic (dark gray), Ivory Tri-Coat (light gray), Bright White (white), Header Orange (bright orange), Billet Silver Metallic (light gray), Phantom Black Tri-Coat (black), Plum Crazy (purple), High Octane Red (bright red), and Torred (red).
Abundance of Comfort Features
The 2016 Dodge Challenger's interior is built to be as comfortable and enjoyable to be in as possible. The huge sports-inspired seats of the vehicle can be upholstered in cloth or leather depending on the trim level. The whole interior can be decorated in dark gray (Dark Slate Gray) with or without red (Radar Red) details. There are plenty of other great features in the cabin as well, including a high-grade Harman Kardon® 18-speaker soundsystem, a Uconnect® touch-screen display with built-in navigation, SiriusXM® satellite radio connectivity, a Bluetooth connection for mobile devices, a remote access and ignition system, and an advanced climate control system.
Full Protection
Needless to say, a vehicle of the 2016 Dodge Challenger's class should be as safe as possible. Therefore the car in question is equipped with all-wheel disc brakes with ABS, EBD, and power assist, multi-stage airbags, active head restraints built into the front seats, electronic traction and stability control technology, and rear parking assist sensors. Consequently, the vehicle received the maximum five-star overall safety rating from the National Highway Traffic Safety Administration.
Get a Great Deal in Salt Lake City, UT
Tired of sifting through thousands of 'for sale by owner' classifieds to find the car you're looking for? Then be sure to check the Salt Lake Valley Dodge inventory if you'd like to find a new or used 2016 Dodge Challenger for sale in Salt Lake City, Utah. In addition to a very wide selection of vehicles in top condition, we can frequently offer you prices which are close to the best ones you could find anywhere around, so we'll be waiting for your call if you'd like to reward yourself with the exceptional 2016 Dodge Challenger.