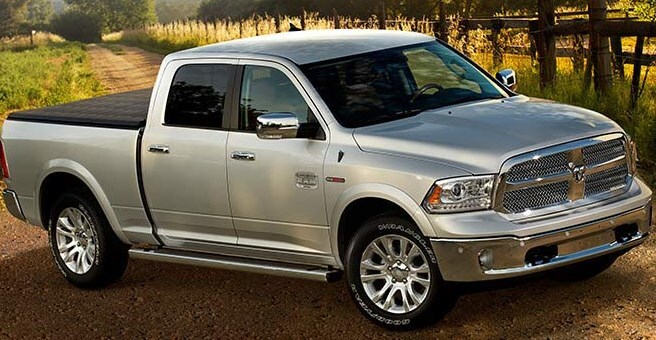 The 2016 Ram 1500 is among the smaller trucks in the market (as both the 2500 and the 3500 from the company's range allow hauling and towing larger payloads), but it certainly doesn't lack reliability and performance for your daily cargo transportation needs. Moreover, its relatively low fuel consumption rates allow you to drive around the city streets without spending too much money on gas - even when the cargo bed is full. If you're interested in a new or used 2016 Ram 1500 for sale in Salk Lake City, UT, you don't really have to check any 'for sale by owner' classifieds anymore, as you can always find a wide selection of all kinds of new and preowned vehicles in the Salt Lake Valley Ram inventory. We offer some of the best prices in the region for top quality merchandise, made possible by countless promotions and some very special offers. So let's get right to it and overview all the interior, exterior, and powertrain features of the 2016 Ram 1500.
An Enormous Range of Variations
If you decide to purchase a new or used 2016 Ram 1500, you'll have to make a load of choices to build a model which would suit you the best. To begin with, the truck has two drive types to choose from: RWD and AWD. Then there are five alternatives for the cabin size and the cargo bed length: Regular 6'4", Quad 6'4", Crew 6'4", Crew 5'7", and Regular 8', all ranging from 2 to 4 doors and 2 to 6 passenger seats. Finally, there are as many as 10 different trim levels, including Tradesman, Express, Sport, HFE, Outdoorsman, Black Ram Express, Big Horn, Laramie, Laramie Longhorn, and Laramie Limited.
Engine Diversity
If you'd like your 2016 Ram 1500 to run on gasoline, you can choose between two alternatives for the engine, including a 3.6 liter V6 which provides 305 hp and a 5.7 liter V8 which peaks at 395 hp. If you prefer diesel instead, there's the 3.0 liter V6 engine which provides 240 hp and exceptional hauling and towing capability. There's a total of four options for the transmission: you can choose between a fully automatic or an auto-manual one coming with 6 or 8 speeds.
Daily Affordability
Whichever engine you end up choosing, the truck stays very economical, so you can use it for daily drives around the streets of Salt Lake City, UT as well as transportation of large cargo payloads. The RWD version of the vehicle equipped with the V6 gasoline engine requires just one gallon of fuel for a 25-mile drive on a highway or an 18-mile one in an urban area. Even if you choose the most demanding version of the truck, you'll still need just a gallon for 19 and 13 miles on a highway and in the city respectively.
A Strong Appearance
As it is fitting for a powerful truck, the 2016 Ram 1500 comes with an authoritative, respectable exterior look formed by a strict body shape and an aggressive front fascia. The truck can be painted in a number of different colors, including Prairie (light khaki), Granite Crystal Metallic (dark gray), Bright Silver Metallic (light gray), Maximum Steel Metallic (gray), White Gold (very light brown), Deep Cherry Red Crystal (dark red), True Blue (dark blue), Western Brown (dark brown), Flame Red (red), Black Clearcoat (black), Blue Streak (blue), Bright White (white), and Black Gold (very dark brown).
Safety Measures
The exceptionally strong frame of the 2016 Ram 1500 might seem to be enough to keep the vehicle's occupants safe during road accidents, but your protection doesn't end here. The vehicle is equipped with all-speed traction control technology, an electronic stability assist system, ABS brakes with electronic distribution, trailer sway control technology, and a selection of airbags. All of these features combined allowed the truck to score overall four stars in the NHTSA crash tests.
Ample Comfort
The very roomy and comfortable cabin of the 2016 Ram 1500 can be finished in four different colors: Black, Cattle Tan (brown), Diesel Gray (dark gray), or Light Frost Beige (light brown). The seat upholstery brings a great balance between durability and comfort regardless of your chosen fabric (including cloth, vinyl, and leather), while a powerful air conditioning and filtration unit will keep you warm or cool during all your trips. The truck also comes with a Bluetooth® connection for your mobile device, a built-in hands-free system, a 7" multi-information display in the instrument panel, a powerful audio system consisting of up to 10 quality speakers, and an 8.4" Uconnect® touch-screen interface with navigation.
Great Offers near Salt Lake City, Utah
Trying to find this 2016 Ram 1500 near Salt Lake City, Utah? Salt Lake Valley Ram is here for everyone looking to buy a new or pre-owned vehicle at an excellent price. We can always offer something close to the best deal you could find anywhere else in the state, so our online inventory is definitely worth a look. If you'd like to drive your own 2016 Ram 1500, be sure to give us a call - we'll provide you with our best and latest offer in no time.