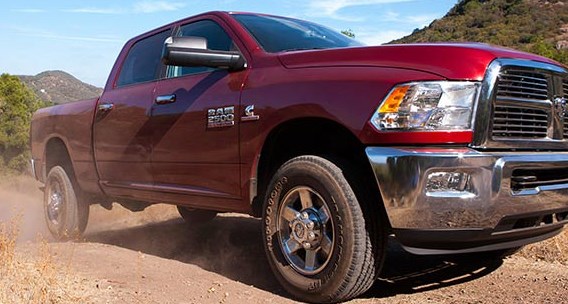 Crafted for Cargo Transportation
The 2016 Ram 2500 is not the most powerful truck in the manufacturer's range, but it packs enough punch under its hood to comfortably tow and haul enormous amounts of cargo. Moreover, it comes with a cabin which is built with comfort in mind, meaning every trip you'll take in this truck will be exceptionally enjoyable. Looking for a new or used 2016 Ram 2500 for sale in Salt Lake City, Utah? At Salt Lake Valley Ram, you'll always find a wide selection of great brand new and certified pre-owned vehicles, all coming at some of the best prices in Salt Lake City, UT and the region around the city. Checking out 'for sale by owner' ads is simply unnecessary, as you can always get an excellent deal for a vehicle in a top condition from us. So what exact features make the 2016 Ram 2500 one of the best trucks in its class?
Countless Alternatives
The manufacturer provides a handful of customization options to ensure that you can build yourself a perfect 2016 Ram 2500. Firstly, you can pick the drive type from two alternatives: AWD and RWD. Then there are four different options for the size of the cabin and the length of the cargo bed, including Regular 8' (two doors and space for up to three passengers), Crew 8', Mega 6'4", and Crew 6'4" (four doors and space for as many as six passengers). Moreover, there are eight different trim levels as well, including Laramie, SLT, Tradesman, Outdoorsman, Big Horn, Laramie Longhorn, Laramie Limited, and Power Wagon Laramie.
Plenty of Engines
There are five engines available for any new or used 2016 Ram 2500, coming with three different fuel types. If you prefer regular gasoline, you can choose an amazing 5.7 liter V8 engine which packs 383 hp or an even more powerful 6.4 liter V8 one which provides 410 hp. The first engine is also available as bi-fuel one, meaning you can also fill it up with compressed natural gas, enabling you to save quite a lot of money on fuel. Finally, there are two similar diesel options for the engine (350 hp and 370 hp), both of which come with a 6.7 liter displacement and an in-line 6-cylinder structure. The truck's transmission is always 6-speed, but can be chosen between manual, automatic, and auto-manual alternatives.
Excellent Safety
Although the truck wasn't investigated by official crash-test agencies, there are no reasons to think it would be inferior in this area. The vehicle's large and strong frame might already be enough to keep you and your passengers safe, but the truck is also equipped with a heavy-duty braking system with ABS and EBD, a range of multi-stage airbags in the cabin, advanced automatic traction and stability assist systems, active head restraints for front seat passengers, integrated shock absorbers, and an advanced 4x4 system which provides additional grip when driving in rain or snow.
Incredible Selection of Colors
Although the 2016 Ram 2500 usually comes painted in common colors such as Black Clear Coat (black), Bright White (white), Bright Silver Metallic (light gray), Granite Crystal Metallic (dark gray), or True Blue (dark blue), the manufacturer also offers an extensive range of custom colors for the truck's exterior, including Bright Red, Dark Brown, School Bus Yellow (bright yellow), Bright Green, Agriculture Red (dark red), Timberline Green (dark green), Robin Egg Blue (very light blue), Light Green, Black Gold (very dark brown), Blue Streak (dark blue), Power Tan (bright brown), National Safety Yellow (pale yellow-green), Gold (very light brown), Holland Blue (blue), Tree Green (green), Omaha Orange (orange), White Hills Green (bright green), Prairie (khaki), Deep Cherry Red Crystal (dark red), Western Brown (dark brown), Maximum Steel Metallic (gray), Midnight Blue (very dark blue), Flame Red (red), Detonator Yellow (bright yellow), Construction Yellow (pale yellow), and Light Cream (very light brown).
A Special Interior
The abilities to easily load your cargo into the truck and carry a huge payload are both very important, but let's not forget the comfort of the interior as well. The 2016 Ram 2500 is among the better choices in its class when it comes to the abundance of comfort features in the cabin, as inside it you'll find an advanced climate control system, remote keyless entry technology, a powerful soundsystem, a Bluetooth® connection for your smartphone, a 7" fully customizable information display behind the wheel, and a Uconnect® touch-screen display with integrated navigation.
Exceptional Capability
The sturdy frame and upgraded mechanicals of the 2016 Ram 2500 allow it to carry large payloads without any problems. The exact numbers depend on the trim level and the engine you choose, but in most cases the truck should be able to carry anything weighing up to 3,170 lbs in its cargo bed. In addition to that, you can tow a consignment of up to 18,350 lbs, putting the truck among the most capable ones in its class.
Great Offers in Salt Lake City, UT
It's great that you've come to the Salt Lake Valley Ram website if you're trying to find this 2016 Ram 2500 near Salt Lake City, Utah, as we always try to offer only the finest deals to customers who are looking to buy a top quality vehicle. Both new and preowned vehicles in our range are frequently coupled with amazing promotions, so you can be sure that we'll always offer you something close to the lowest price you could find anywhere around. So do give us a call if you're interested in purchasing a 20146Ram 2500 - we'll surely have a great deal waiting for you.