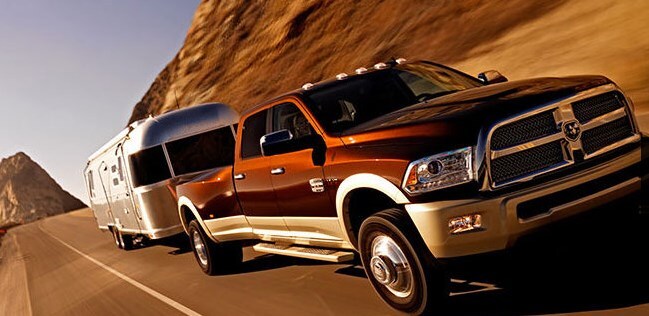 Unlimited Pickup Power
The 2016 Ram 3500 is the most powerful pickup truck among the manufacturer's selection, providing even better towing and hauling capability than the 1500 and the 2500. Moreover, it comes with a spacious, airy, and technologically advanced cabin, making every trip you take in this truck a real pleasure. In case you're looking for a new or used 2016 Ram 3500 for sale in Salt Lake City, Utah, we'd like to invite you to check the Salt Lake Valley Ram inventory for a new or pre-owned model which would suit you the best. We frequently add new special offers and promotions to the mix, so you can be sure you'll get an excellent deal on this amazing truck. But what are the features that make the 2016 Ram 3500 so great? Read the review below to learn more.
Build Your Own Truck
The 2016 Ram 3500 comes with one of two available drive types: you can choose between RWD which provides exceptional performance and additional fuel efficiency and AWD which comes with extra stability and performs better in any region with no conventional roads. Then there are four different cabin and cargo bed sizes, including Regular 8', Mega 6'4", Crew 8', and Crew 6'4". While the first one of these comes with 2 doors and up to 2 passenger seats, the latter three are all equipped with 4 doors and 2 seating rows. Finally, there's a selection of six excellent trims, including Tradesman, SLT, Big Horn, Laramie, Laramie Longhorn, and Laramie Limited.
Choose From Five Engines
There are even more customization options under the 2016 Ram 3500's hood, as the truck is available with both gasoline and diesel engines. The former alternatives include a 5.7 liter V8 one which generates 383 hp and a 6.4 liter V8 one which packs 410 hp. Then there are three diesel options, all coming with a 6.7 liter displacement and an in-line 6-cylinder structure. All of them provide a different output however, ranging from 350 hp to 385 hp. All the engines come with a 6-speed transmission which comes in two alternatives: manual and automatic.
Exceptional Capability
The truck really excels when it comes to cargo transportation capability, as the upgraded mechanicals and the incredibly strong frame (which easily withstands 50,000 psi of pressure) are combined to provide some of the best hauling and towing ratings in the vehicle's class. The truck can easily tow a load weighing up to 30,000 lbs and carry an additional 7,000 lbs in its cargo bed.
A Wide Range of Colors
Any new or used 2016 Ram 3500 can come in an exceptional range of body colors, so you can certainly choose one which would be unique to the Salt Lake City, UT streets. The full selection includes Light Cream (very light brown), Prairie Clear Coat (khaki), Robin Egg Blue (very light blue), Hills Green (bright green), Holland Blue (blue), Construction Yellow (pale yellow), Western Brown (dark brown), Light Green, True Blue (dark blue), Bright Green, White Gold (very light brown), Power Tan (bright brown), Flame Red (red), Bright White (white), Agriculture Red (dark red), National Safety Yellow (pale yellow-green), Black Gold (very dark brown), Bright Silver Metallic (light gray), School Bus Yellow (bright yellow), Detonator Yellow (bright yellow), Bright Red (red), Omaha Orange (orange), Granite Crystal Metallic (dark gray), Tree Green (green), Blue Streak (dark blue), Midnight Blue (very dark blue), Dark Brown, includes Maximum Steel Metallic (gray), Deep Cherry Red Crystal (dark red), and Timberline Green (dark green).
A Comfortable Interior
Depending on the exterior color and the trim level, the interior of the 2016 Ram 3500 can be finished in Black, Light Frost Beige (light brown), Diesel Gray (dark gray), or Cattle Tan (brown). The seat upholstery is also subject to the trim: cloth, vinyl, and leather are all available. Other great features you encounter in the truck's cabin include a 10-speaker soundsystem, a Bluetooth connection for hands-free communication and streaming audio, a SiriusXM® satellite radio, a built-in WiFi hotspot with a 150 feet range, an integrated navigation system, a 7" multi-information display behind the wheel, and an 8" Uconnect® touch-screen interface.
Safety Measures
Last but not least, the 2016 Ram 3500 comes with an abundance of excellent safety features, including a very well-built body structure, heavy duty power-assisted brakes with ABS and electronic braking power distribution, all-speed traction and stability assist technology, halogen lights on the roof for better visibility, a selection of multi-stage airbags throughout the cabin, and a quality ParkView® rear parking assist camera.
Looking to Buy This Truck in Salt Lake City, UT?
Sifting through hundreds and hundreds of 'for sale by owner' classified ads to find your perfect truck can be very tiring and time-consuming. Therefore we'd recommend checking out the Salt Lake Valley Ram new and preowned vehicle inventory instead if you'd like to find this 2016 Ram 3500 near Salt Lake City, Utah. We can always offer you something close to the best price you'd find anywhere in the area in addition to exceptional quality in each and every vehicle. So give us a call and ask about the 2016 Ram 3500 and we'll surely provide you with our latest and best offers on this powerful truck.