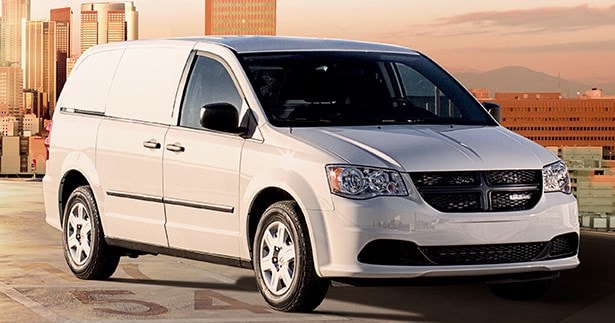 A Business-oriented Minivan
The 2016 Ram C/V Tradesman is extremely similar to the legendary Dodge Grand Caravan, as it comes with the same powertrain, the same fuel consumption rates, and pretty much the same comfort in the interior, but there's one major difference between these two great cars: cargo transportation capability. Instead of two rear seating rows present in the Caravan, the cargo version comes with an enormous cargo area, allowing you to haul a really large payload without breaking a sweat. So if you're looking for a new or used 2016 Ram C/V Tradesman for sale in Salt Lake City, Utah, you've visited just the right place. At Salt Lake Valley Ram (based south of Salt Lake City, UT), we're always working hard to present new special offers and promotions, allowing us to get you some of the best price tags on pre-owned and new vehicles in the region. If you're interested in purchasing a new or used 2014 Ram C/V Tradesman, be sure to read our quick review of the vehicle below to learn more about this amazing cargo van.
A Van You Can Trust
The 2016 Ram C/V Tradesman comes with a single trim level, so most of its features are present in all new and preowned specimens of this model on the road. The engine is no exception: all cargo vans are equipped with a very trustworthy and capable 3.6 liter V6 engine which generates 283 hp, making it perfect for driving on both highways and city streets. What is more, the engine is paired up with a technologically advanced 6-speed automatic transmission with integrated auto-manual capability.
Great Economy
The 2016 Ram C/V Tradesman has a feature which is a real advantage for any business: it's very conservative in terms of fuel consumption. As all vans have the same powertrain and FWD drive type, they all need just one gallon of regular gasoline to reach as many as 25 miles on a highway or 18 miles in the streets of Salt Lake City, UT or any other urban environment. Even better, the van comes with a 20-gallon fuel tank, meaning its highway range is as high as 520 miles.
Protection for Both Passengers and Cargo
Another area where the cargo van is very similar to its passenger counterpart is the vehicle's safety. The latter was rated at four stars for overall safety by the National Highway Traffic Safety Administration, and there are no reasons why the cargo option would be any less safe. The vehicle comes with built-in electronic stability control technology, all-speed traction control, a very strong frame, powerful ABS / EBD brakes, a ParkView® parking assist camera, and a package of airbags including side curtain ones in the trunk. All of this means that both your passengers and your payload will be kept as safe as possible during any accident.
Wonderful Capability
With an 8' by 4' cargo area, the 2016 Ram C/V Tradesman is capable of transporting really large amounts of merchandise: the total possible cargo volume reaches as many as 144.4 cubic feet. You can also be sure that the van won't have any problems if your cargo weighs a lot: the total payload of the cargo area is 1,800 lbs, with additional 3,600 lbs of towing capability.
Smart Exterior
The 2016 Ram C/V Tradesman has one major difference in appearance from the Grand Caravan: its rear and side windows can be substituted for steel plates which might prove to be a really good choice depending on the cargo you're usually carrying. Otherwise, the vehicle's very similar to the well-known family minivan and is available in five exterior colors: Billet Silver Metallic (light gray), True Blue (dark blue), Bright White (white), Redline 2 Coat Pearl (dark red), and Brilliant Black Crystal (black).
Comfort Improvements
Cargo vehicles are usually not very comfortable for the driver (not even mentioning the passengers), but the 2016 Ram C/V Tradesman comes with a selection of great features in its interior which make every trip very enjoyable. The full selection of standard and additionally available features includes a powerful Uconnect® media center with a touch-screen interface, Bluetooth® audio and hands-free connectivity, built-in navigation, a remote keyless access system, and a climate control system with two individual zones. The interior finish is always Black, while the seats always come with cloth upholstery.
Close the Deal Today
You're already halfway there if you're trying to find this 2016 Ram C/V Tradesman near Salt Lake City, Utah. At Salt Lake Valley Ram, we always make sure to offer excellent prices and special deals for anyone looking to buy a brand new or certified used vehicle. So why spend countless hours browsing through 'for sale by owner' ads looking for the perfect cargo van when you can simply give us a call and get a very fair price for the exceptional 2016 Ram C/V Tradesman?