The Difference Between the Ram 1500, 2500 and 3500
Here at Salt Lake Valley Chrysler Dodge Jeep Ram, you can always count on us to deliver an exceptional line-up of new Ram trucks for all of your light and heavy-duty needs! Whether you're in the market for a heavy-duty work truck with powerful towing capabilities or simply an all-around personal truck for your everyday activities, we've got you covered! When browsing our vast inventory of trucks, be sure to check out our fan-favorite Ram trucks: Ram 1500, Ram 2500, and Ram 3500. The main difference between these three models is the power each vehicle holds. Read more below about our new Ram trucks for sale near Salt Lake City!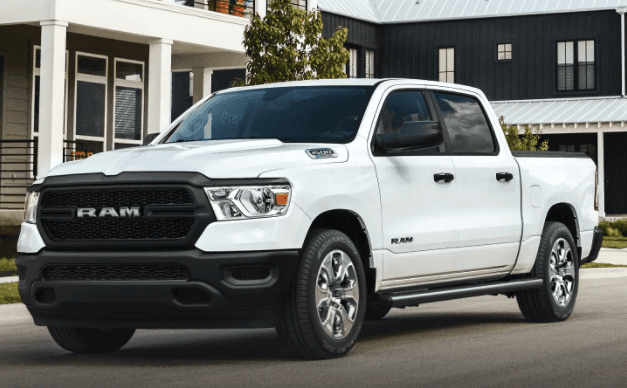 New Ram 1500
The new Ram 1500 is one of the most well-rounded and versatile trucks in the market! This light-duty truck is not only powerful, but also economical with an impressive fuel economy of up to 33 MPG on select models. The Ram 1500 also offers a variety of different engines, which include the standard 3.6L Pentastar V6 Gas engine with eTorque mild hybrid powertrain, 3.0L eco diesel V6 engine, and three different Hemi® V8 engines. The new Ram 1500 is nothing short of a work-horse, with a towing capacity of up to 12,750 pounds, and when combined with the payload weight, has the potential to pull a combined weight of 13,900 pounds! In addition to the Ram 1500 is the new Ram 1500 TRX® which has the capability to pull up to 15,160 pounds of combined weight! With the new Ram 1500 here at Salt Lake Valley CDJR near West Jordan, you can tow confidence!
New Ram 2500
If you're looking for America's longest-lasting heavy-duty pickup truck then look no further, the Ram 2500 has got you covered! This durable new Ram 2500 is known for its reliability and toughness, with an outstanding towing capacity of up to 20,000 pounds, and when combined with the payload potential, the new Ram 2500 can tow a combined total of 23,060 pounds! Now that's a lot of power! This brawny heavy-duty pickup truck comes available with two different engines: the 6.7L Cummins® Turbo diesel engine and the 6.4 Hemi® engine. The 6.7L Cummins® Turbo engine is known for being remarkably responsive and has striking torque ratings for its towing capabilities. Whereas the 6.4L Hemi® V8 engine comes standard on each Ram 2500, and is known for its best-in-class standard 410 horsepower and features fully electronic operation and on-the-fly shift mapping!
New Ram 3500
When you think of a truck destined for greatness, think about the new Ram 3500! This absolute beast of a truck is ranked best in its class for its towing capabilities. The Ram 3500 has a mind-blowing towing capacity of 37,100 pounds and a payload of up to 6,570 pounds! The new Ram 3500 comes with three different engine options: 6.7L High-output Cummins® Turbo Diesel I6 engine, 6.7L Cummins® Turbo Diesel I6 Engine, and 6.4 Hemi® V8 Engine. The Ram 3500 will undoubtedly redefine your towing experience. Give us a call at Salt Lake Valley Chrysler Dodge Jeep Ram near Salt Lake City to schedule your test drive today!